Chief Marc Schnitzer
It was during a career transition that I joined the rescue squad.  Turns out, it was one of the best decisions I've mad. It's empowering to to have the ability to provide pre-hospital medical and trauma care for acute and chronically ill patients of all ages.  In addition, I truly enjoy community health initiative involvement, such as discussing injury prevention with our town's public school children. As a volunteer, helping others is both necessary for, and appreciated by, the community as a whole.
Deputy Chief Allie Deegan
Training Lt. Nate Lee
Well. The first time when I saw the BHVRS as soon as I moved into this town, I fell in love with. And it took me a couple of years of thinking my own reason why I shall join the BHVRS – Am I a role model of my precious daughter? Am I giving back to community? They must be a part of my reason why. However, I simply want to help others as I was being helped so far in my life.
Equipment Lt. Virginie Delwart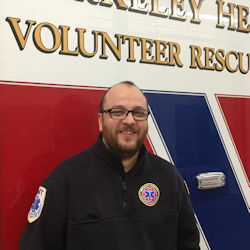 Vehicles Lt. Benoit Minguet
I joined the rescue squad for a couple of reasons. One was that my daughter came home one day telling me the rescue squad was looking for volunteers. We had just moved to Berkeley Heights with the family and I wanted to get to know people and the town we lived in. She suggested it could be great for me to get involved, so I looked into it. Once I joined, I fell in love with it. It was exactly what I was looking for. Becoming an EMT, getting to know the other members, assisting our BH residents or people just passing through has had a big impact in my life. This is a very rewarding human experience.
Compliance Officer Sneha Dontha
President Joe Savino
I always wanted to be involved with the Rescue Squad since I was a boy scout and earned the First Aid merit badge. I am the owner of a local small business and have the unique ability to respond to emergency calls 24 hours a day. After a family emergency in 2013, I experienced firsthand how vital it is for our community to have skilled first responders available 24/7. Volunteering and helping people is very rewarding.
Vice President David Birnbaum
I originally became an EMT and joined the squad when I returned home from college and attended graduate school in NYC. I went to school at night so I was able to ride during the day when I was told they needed strong young backs. I may no longer have a strong young back, but upon returning to Berkeley Heights, I knew I wanted to become an EMT and join the squad again. I truly appreciate the opportunity to serve the community, especially the parents of past GL classmates.
Corresponding Secretary Steve Kirsch
Recording Secretary Monica Poulos
Treasurer Michele Young
I have always been interested in the medical field and despite having no experience, I decided to give becoming a member of the Rescue Squad a try. Serving our community as a volunteer EMT has been one of my most favorite and rewarding things I have ever done. It is a privilege to be able to help someone when they are in need. It has also been an absolute pleasure meeting, getting to know, and working alongside the incredible people who are involved in this field.
NJFAC Representative Howie Meyer
During college, I worked at the Berkeley Heights A&P and one of our regular customers was Alice Keimel, a member of the squad. Alice use to tell myself and two friends I worked with about the squad and how much she enjoyed being a member. My friends and I thought that it sounded exciting and was something that we wanted to do. So in October 1971, my friends and I joined up. It's been a great experience and I've met some very nice people on the squad while being able to help many others. I say a little prayer every day that I'll be able to keep doing this for many more years to come.
Click here for the 2020 Officers.
Click here for the 2019 Officers.
Click here for the 2018 Officers.
Click here for the 2017 Officers.
Click here for the 2016 Officers.
Click here for the 2015 Officers.